News update
Greater Manchester Spatial Framework
With planning being handed over to the Greater Manchester Combined Authorities (GMCA), consultations have been under way to identify possible sites for housing, industrial and infrastructure projects to 2035. These allocations are viewable on the online zoomable map (screenshot below - Westhoughton area). Sites have been submitted by local authorities such as Bolton Council (red/orange) and by developers and land-owners (purple). Whilst the council submitted sites include existing allocations, known brownfield sites and some fill-in sites, the submissions from developers and landowners are extensive and would - if accepted - lead to the loss of surrounding protected open land and some green belt. This is a consultation and would still have to meet planning guidelines, however, it would seriously impact on Westhoughton. Note also that there could be considerable development activity on the border - Atherton and Hindley (Wigan Council) - adding to potential through-traffic.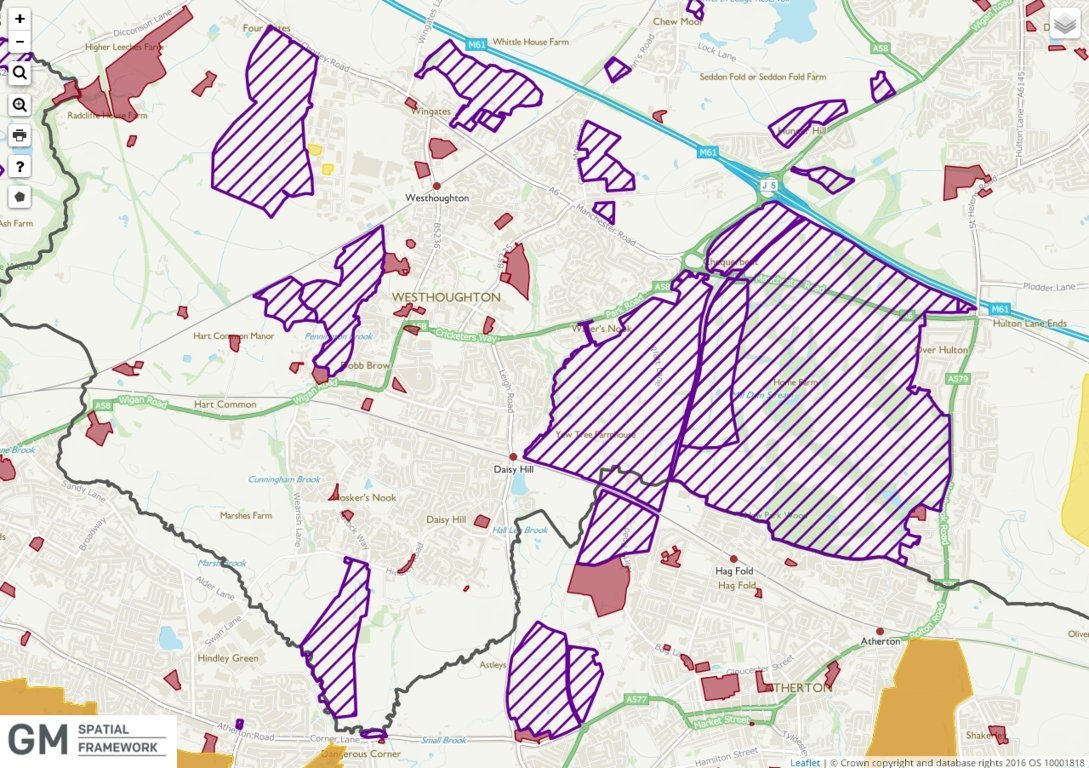 Aldi Supermarket for Westhoughton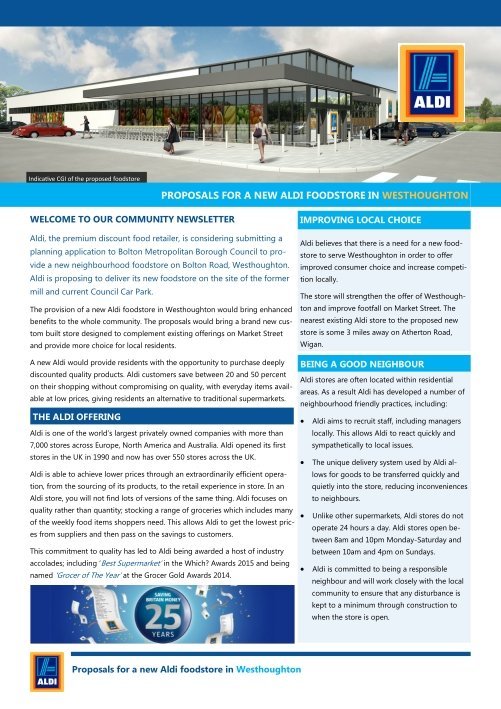 With a formal planning application now in (95552/15) and approved (10/3/16), a new Aldi supermarket is to be built on on brownfield land (Glebe Mill) adjacent to Westhoughton library. The land was previously ear-marked for a 'retirement village' (86502/11 - 2011) - the application subsequently withdrawn. The project will see the relocation of the council car park (to be accessed via Library Street) with an increased capacity of 76 cars, with the existing public car park given over to supermarket parking (99 spaces) accessed via Bolton Road.
The consultation document is here. Approved - Bolton News article.
The new development would add to shopping provision in the town centre - a strategic aim of Bolton Council - and should increase footfall on Market Street with the increased parking availability.
Social Media
Particularly in light over new development being proposed under the revised Local Plan consultation, we have been contacted by many local residents for information. One suggestion has been that S.W.A.N. should have its own Facebook group. The internet and social media is a great tool for connecting with people; used by many community groups, it can be as a means of informing, sharing information and opening dialogue with people.
In order to connect better with local residents and those interested in planning issues and how they affect Westhoughton a new S.W.A.N.
Facebook Group has now been set up. People will have to join to view and make posts. It will be possible to add relevant links and photos. We would be interested in your experiences of living locally, you view on building, amenities, and in particular experiences of commuting, whether by road or rail.
As well as Facebook, a Twitter account has been set up
@SWAN_online.
Good interest and comment in the S.W.A.N. Facebook page with new members joining, particularly in light of the proposed Persimmon 300-dwelling development at Lee Hall (north of Platt Lane). Developers had met with local Councillors, representatives from SWAN and on Tuesday, 25th November (2014) held an open consultation and presentation of their plans at the Carnegie Hall (Library). There has also been coverage in the Bolton News (24/11 | 25/11). S.W.A.N have met to discuss these developments and our position. Formal plans have now been submitted (29/7/15). The application came before the Planning Committee, Thursday, 22 October and, with the Planning Officer recommending refusal, was unanimously rejected (traffic, unnecessary loss of green space). Council decision has been appealed by developer (hearing 5th July 2016). More…
Online Search Tool
A useful tool in keeping up to date with planning activity is the Bolton Council Maps 'My Bolton' tool on the Council website. It does take a little navigation… Go to 'My Maps' tab. Zoom in and move map to Westhoughton, switch on 'planning' in the categories and applications will be shown. Can be looked at by year. Gives planning reference and a pop up about the application, etc. which can be followed up here (enter reference / other details into search box).
New Developments
Whilst it had been a quieter time for S.W.A.N., meetings have continued [the committee meets usually once a month]. Those stated goals of keeping a watching brief over development in Westhoughton remain the same. We were pleased with the outcome of the 'LDF' (Local Development Framework) consultation in 2010 - this with a new Government and changes to planning required a re-assessment/revisit which was completed and became the 'Local Plan' in 2014. It was acknowledged by planners and Planning Inspector that Westhoughton had borne the brunt of development over many years, and that it couldn't really cope with much more building without undue pressure on infrastructure, services and quality of life. Since then there has been a period of relative quiet here in Westhoughton. In light of the 'cessation' of building after the 2008 financial meltdown, it could be construed that much of the development was driven by the credit bubble and an element of speculation.
There have been changes to planning strategy which could put pressure on greenbelt, and moves to boost the economy by government through construction. And whilst concentrated in London and the South East, as reported in the media, there has been a resurgence in building, aided by Government schemes such as 'Funding For Lending' and 'Help To Buy' - the latter using taxpayers money to underwrite deposits. Since 2008 banks had been more careful and risk averse, seeking bigger deposits on property loans. With house prices surging again commentators are talking of a bubble.
We continue to monitor developments in Westhoughton. It is acknowledged that some development is always necessary as the population grows. In the draft LDF of October 2011 the following Westhoughton sites were allocated for development over the period until 2026 (458 dwellings). The final figure in the Allocations Plan approved by the Planning Inspector (adopted 3/12/14) is 453 dwellings:
| | | | | | |
| --- | --- | --- | --- | --- | --- |
| Ref | Site | Address | Size (Ha) | Dwellings | Land Type |
| 76SC | Part Street | - | 1.67 | 90 | Greenfield |
| 77SC | James Street | - | 0.76 | 31 | Brownfield |
| 78SC | Land at Leigh Common | Collingwood Way | 1.19 | 43 | Greenfield |
| 79SC | Armor Holdings Factory | Bolton Road | 2.30 | 104 | Brownfield |
| 80SC | Roscoes Farm | Bolton Road | 3.78 | 170 | Greenfield |
| 81SC | Edges Farm | Leigh Road | 0.56 | 15 (20) | Brownfield |
| | | | Total | 453 | |
The development of Roscoe's Farm - a proposal for a 106 dwelling development has been put forward - was not unexpected though it may add to traffic problems on Bolton Road, particularly if the Armor Holdings site (opposite) is developed as allocated. Roscoe's Farm is an area of green open land once used for grazing; it also borders Hall Lee Bank Nature Reserve.
Roscoes Farm (ref: 93610/15): Due to concerns raised about this development a special consultation event was held on Tuesday, 24th March at The Carnegie Hall, Westhoughton, where residents could view plans and speak to the developer's agent and the Bolton Council Planning Officer. The extended consultation period ended on 1 May 2015. Recommended for approval by the Planning Officer, and being an allocated site on the Local Plan, the application was given the go-ahead by the Planning Committee on 27th August (11 votes to 9) - to refuse would have resulted in an appeal by the developer that the Council would have lost.
After a short delay, the Section 106 Agreement was signed off (4/4/16) allowing for development of the site, subject to conditions, to begin. In the agreement there is monetary provision for off-site 'affordable housing', and local improvements: including Washacre Primary School, Hall Lee Bank Park (Local Nature Reserve), Central Park and Health Services.
A minor site at Crows Nest was added to a revisited plan (8 dwellings) but has been removed - Councils were obliged to revisit their LDF plans (now 'Local Plan') in line with the new National Planning Policy Framework (NPPF) (Download). All documentation relating to planning policy in Bolton can be found on Bolton Council website.
As is normal, there is an expectation that 'windfall' sites on formerly developed land (brownfield) may become available and be used for additional development (housing, retail, employment) - such sites reduce the need to develop green field sites. There are currently a number of such sites in Westhoughton. Additionally, a number of sites have had permission for development but are currently being used for other purposes; as such these 'forgotten' sites may come up again.
From the Core Strategy Policy (SC1) document: "The council and its partners will (1) Identify a range of housing sites for additional provision of 694 dwellings [across the borough] per annum between 2008 and 2026. (2) At least 80% of housing development will be on previously developed land in accordance with the Regional Spatial Strategy; the Transforming Estates programme will provide up to 20% of housing development on Greenfield land… Outer areas 20-30% of development yield - 2456 dwellings (26.6%) of total yield of 9243 over period… Housing is considered to be an accepted use in the local town centres of Farnworth, Horwich, and Westhoughton through policies RA2, OA1 and OA3 respectively."
Bolton Council Allocations Plan Examination (2014)
There is no indication that extra allocations are needed, nor are they referenced in any revised documentation relating to Schedule of Main Modifications (to the Allocations Plan) dated June 2014 - to be examined by the Planning Inspector for soundness [of the Local Plan, formerly LDF] in light of planning changes put in place by the Government.
The Examination Hearings took place between 28th April and 9th May. The above site has updates of news of the progress of the Examination. The Inspector, Kevin Ward, has concluded that a number of Main Modifications being required to make the submitted plan sound and these require public consultation (see bottom of linked page). These Main Modifications will be published for consultation for a six week period ending on 25th July 2014.
The Planning Inspector concluded his examination of Bolton Council's Local Plan (formerly LDF) in September declaring that it was "sound when main modifications are made" (Inspector's Report), meeting policy requirements land/housing needs for the area. The plan therefore is as expected and does not contain any further or additional building in Westhoughton. Areas of 'Protected Open Land' - Lee Hall, Bowlands Hey and Ditchers Farm - are not needed for development, at least up to 2026. The Council was able to formally adopt the Allocations Plan as part of its Local Plan and Core Strategy in December 2014. Bolton Council Local Plan (FINAL)
---
Lee Hall
As part of the Allocations Plan Review, we became aware of approaches to Bolton Council and plans develop land owned by Peel Holdings on at Lee Hall - currently designated 'Protected Open Land' in the Local Plan. The submitted proposal would be a new development, vast in size with new roads onto existing roads (Park Road and Chequerbent), and one that would represent a significant increase in the size of the town (1,700 dwellings). During November formal plans by Persimmon have been brought forward to develop part of Lee Hall, land north of Platt Lane in a first phase of that development (300 dwellings).
Further information and updates on the 'Lee Hall' page.
Update (5 Aug 15): There have been a number of enquiries regarding the status of this development. After months of waiting a formal and detailed planning application for the Persimmon development on Lee Hall has been submitted (29/7/15) for 300 dwellings; the site having egress onto Platt Lane and a new, additional junction on the Chequerbent roundabout. Application reference is 94696/15. In light of the adoption of the much scrutinised 'Local Plan' in December, it would be very unlikely for any application to be either recommended by the Planning Department or given the go-ahead by Bolton Council. However, this application should it proceed will have a significant impact on Westhoughton and consequences for further development around the town.
---
Bowlands Hey
As part of the Bolton Allocation
DPD
Examination (Response to Matter 8) which took place in March, the following report was submitted by Nathanial Litchfield and Partners on behalf of Bellway Homes regarding developing an area of Protected Open Land to the west of Westhoughton - Bowlands Hey (in the report also referencing Lee Hall). Questions addressed in the
report
:
Are additional allocations required to meet development needs or otherwise make the Plan sound?
What additional sites have been proposed through representations and would they be consistent with the Core Strategy?
If not, is there a justification to include them?
What would be the practical and procedural implications?
It is clear that having invested in the land and with a more favourable political climate, developers are now looking at green, open sites for development (in this case Lee Hall and Bowlands Hey) - this in addition to previous allocations, all part of a long and rigorous process, that acknowledged the pressures on Westhoughton of previous development.
---
Note: a further 'proposals' has since come to light regarding development on the other areas of Protected Open Land at Ditcher's Farm.
Whilst these proposals appear not to have come into any imminent plans, it is clear that these areas of land will be under threat in the future, and could impact considerably on Westhoughton.
S.W.A.N. is a group concerned about planning developments in the Westhoughton area.
Due to its location, the availability of land and the ease of getting applications approved, Westhoughton has been favoured area for developers and has borne the brunt of house building within the borough, doubling in size over recent decades.
Such development has changed the character of the town and has impacted on the area in terms of infrastructure and quality of life. There has to be a balance, and development should not only adhere to stated statutory planning policy, but should fit with the needs and desires of the local community.
Formed by local residents, S.W.A.N. has developed expertise in planning law and has sought to represent residents, influence debate and policy, and where necessary oppose inappropriate development.
There have been successes, in particular the establishment of three areas of 'protected open land' around Westhoughton, however, in spite of the lull brought about by the recent recession, we remain vigilant, our mission to: To defend areas of protected open land, and to keep a watching brief over planning issues that affect Westhoughton – and thus its impact upon 'Green Spaces', 'Environment', 'Traffic & Infrastructure' and 'Amenities'.
Events
S.W.A.N. Committee meeting:
monthly
Westhoughton Town Council:


Town Council meetings covering general admin and planning take place on certain Monday evenings, details of which can be found at
Bolton Council
Planning Committee: Thurs, 12 May (2-5pm)
Lecture Theatre 1
Bolton Central Library


Minutes/Info of all Council Meetings can be found on the

Meetings Calendar

- look for Committee of interest, date and click on link for info, minutes and decisions.





Planning Search

(Bolton Council) and search by reference number, postcode or single line of an address.





Allocations Plan

(Bolton Council).

94696/15 (29/7/15). Decision 22/10/15 -

95552/15 (23/12/15)

95151/15 (15/10/15).

94571/15 (7/7/15).

Westhoughton Area Forum:
Thurs, 3 Mar (6:30pm/7:00pm) - last mtg
John Holt Centre


Bolton Council run forum for residents to meet with and air their concerns to local councillors and council officers. Includes discussion on agendered topics, budget updates and a Q&A session. Main mtg from 7pm.

Westhoughton Community Network:
Tues, 11 May
Woodlands Care Home (TBC)


Est. 2011, this independent forum is for local community groups providing services and putting on events in Westhoughton.